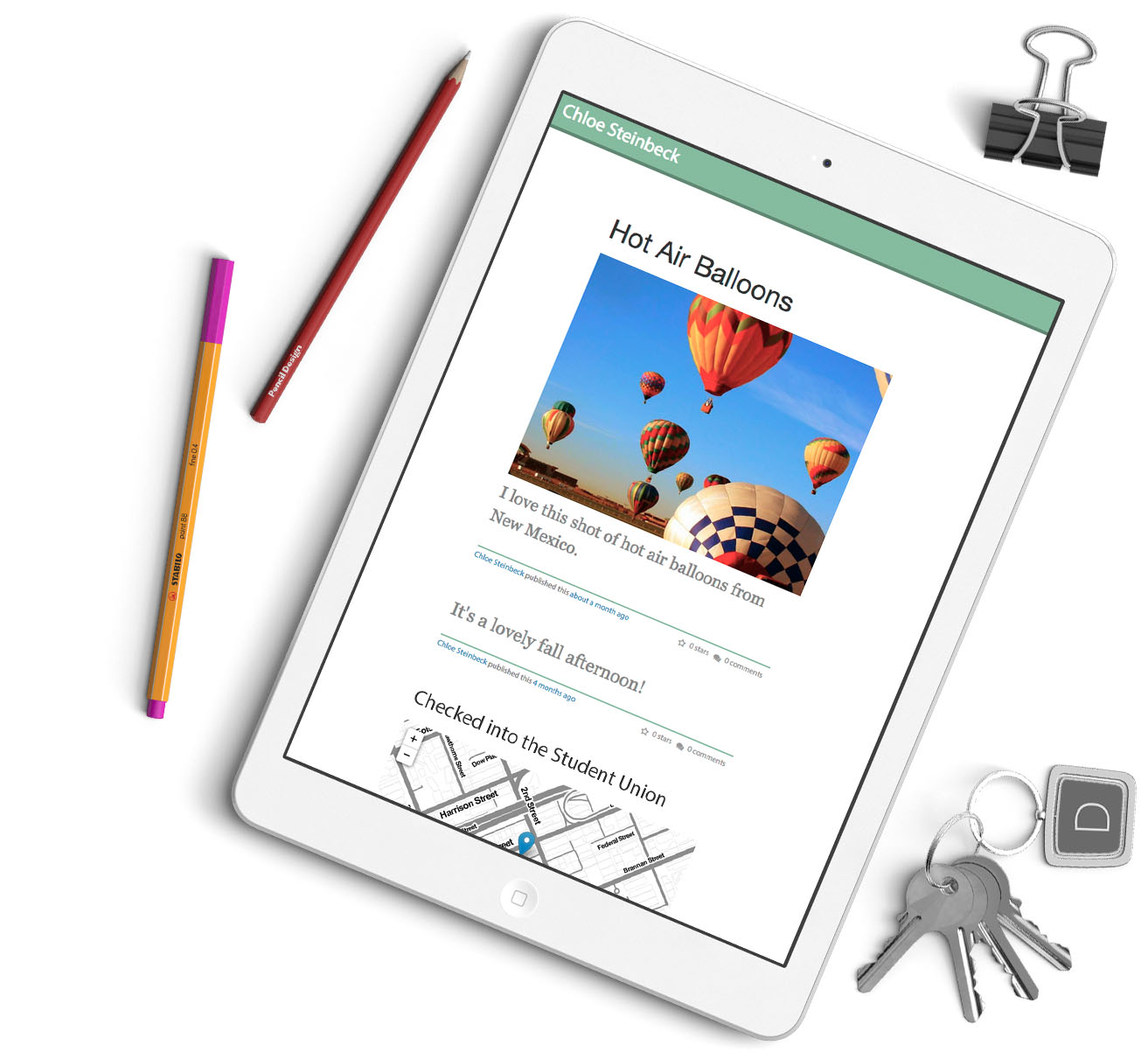 Known has become the easiest way to create an online community to support your class or group. We've built an easy-to-use platform that lets people publish in a group with a variety of media, from blog posts and photographs to files and points on a map. Each post can be private or public; every Known site as a whole can be private or public. And it all works on any device, from the biggest, strongest desktop to the most entry-level smartphone, as long as it comes with a web browser.
Institutions like Harvard and MIT use it to run classes; so do groups teaching web skills in rural India, activists promoting racial justice, writers who need to control their identities, and open source hackers.
Here's how we got here, and here's where we're going.
Finding a fit in higher education
We arrived at Matter knowing we wanted to give people more ownership over their conversations and content online. As well as investing in our team and creating a structured environment for us to grow our company, they gave us a grounding in design thinking which helped us change the way we think about technology businesses.
It was through this process, and hundreds of hours of conversations with teachers and students, that we discovered a deep need in education for social platforms. 98% of higher educational institutions use something called a Learning Management System - platforms like Blackboard and Moodle - but very few report that they are satisfied with the experience. These platforms focus on administration, rather than learning. While they are often used for classroom teaching, they fall comically short of the kinds of social experiences students are used to.
Enter Known. Our platform runs as a stand-alone community site, but it can also integrate with a school's LMS to add those much-needed social features. We offer single sign on to campuses, and unlike many social platforms, let you publish any kind of file you need to. All our plans come with unlimited storage and bandwidth, so you don't need to worry about capacity. We sell SaaS subscriptions, and enterprise licenses for organizations that want to run Known on their own infrastructure.
We also understand that conversations don't just happen in tiny sites on the web. Known sites can push their content across social networks: audio, for example, can be immediately copied to a SoundCloud account. Using brid.gy, we can pull replies and likes from those social networks back to the community, so everything is always stored in one place.
Social infrastructure for campuses
The possibilities are endless. Any campus can run as many Known communities as they need to. We also know that discovering all the content being created on a campus is key, so we've started to provide social hubs and search engines for all of it. On-campus users can search for content that only they can see; visitors to a campus can search for and discover content that has been made public. The result is an easy-to-use gateway to everything happening at a campus. It's never been done before.
We know that in education, one size rarely fits all. So we offer design sprints, where we'll arrive on campus and run design thinking sessions with students, faculty and staff. These allow us to tailor the product to meet the needs of a particular institution, so it complements their activities, their design, and their culture. (These sprints turn out to be useful whether you end up using Known or not.)
Because that's the other thing about Known: it's open source and extremely customizable.
An open source core

In VentureBeat, Lightspeed's John Vrionis writes:
The OSS companies that will be pillars of IT in the future are the companies that leverage a successful OSS project for sales, marketing, and engineering prioritization but have a product and business strategy that includes some proprietary enhancements. They've figured out that customers are more than happy to pay for an enterprise-grade version of the complete product, which may have security, management, or integration enhancements and come with support. And they also understand that keeping this type of functionality proprietary won't alienate the community supporting the project the way something such as a performance enhancement would.
This is our strategy. Our core platform is available on GitHub: you can get it right now. We offer a fully-managed service, with unlimited storage and bandwidth, so you don't need to worry about server maintenance or capacity. But we also offer premium features like LTI integrations, file uploads, and searchable user directories.
We love our open source community. Thousands of people use Known to publish on their own site as an indieweb blog, and the activity helps us build a better platform for everyone. Every single page on every Known site has a little heart icon. Click it, and you're prompted to send us feedback. We read every single message personally, and it allows people who aren't developers or designers to contribute to the community and help us develop the product.
John goes on to say:
OSS businesses turn the customer discovery process completely upside down. Open source software is put into the wild, and the company immediately receives signals from those who are interested. Entrepreneurs get the benefit of real data and usage to help them decide where to focus engineering and sales-and-marketing resources. This is tremendously helpful and important. Data, not guessing, drives prioritization of the limited resources at a company's disposal.
The combination of an open source development model and a design thinking product process means that we can rapidly prototype new ideas, and get strong signals from real people about the desirability of our platform.
Beyond education
It's obvious that a flexible community platform that runs on any device has applications beyond education. With LDAP / Active Directory integration, you can run it alongside your intranet to support a project or a company. Because you can make a community private, we've even seen families use it to share photos of their children that they wouldn't feel comfortable publishing on Facebook.
Mozilla's CEO Chris Beard said today that he thought of revenue as "a means to do better for the world". We agree: it is important to be a growing, valuable company, but in service to being able to provide a platform that can support any class and give anyone in the world a voice in a space they control. The total market for Known in education is measured in billions of dollars, but our potential goes beyond that.
We're living in a world where everyone can be connected, but only a handful of companies control those conversations. Censorship and surveillance are growing threats. By creating an open, easy-to-use platform that works on every device, we can help everyone own their own conversations. Not only can top-tier universities and companies benefit, but we can help disadvantaged communities, too. From non-profits sharing resources in developing nations to vulnerable groups who need to protect their identities right here in America, we believe we can make a difference.
Our role as technologists is to build a better future where everyone is represented. That's the promise of the web, and it's something core to our mission and beliefs. We're building what I call respectful software, and by showing it can be successful, we will encourage other vendors to follow.
Today, it's the best way to build an online community. But Known has an even brighter future ahead of it. We're excited to bring it to you.
Get involved
Check out our website, and follow us at @withknown on Twitter.
If you're a developer, you can find our core platform on GitHub, and you're invited to join the developer mailing list.
And you can always email me at ben@withknown.com. I'd love to talk to you.