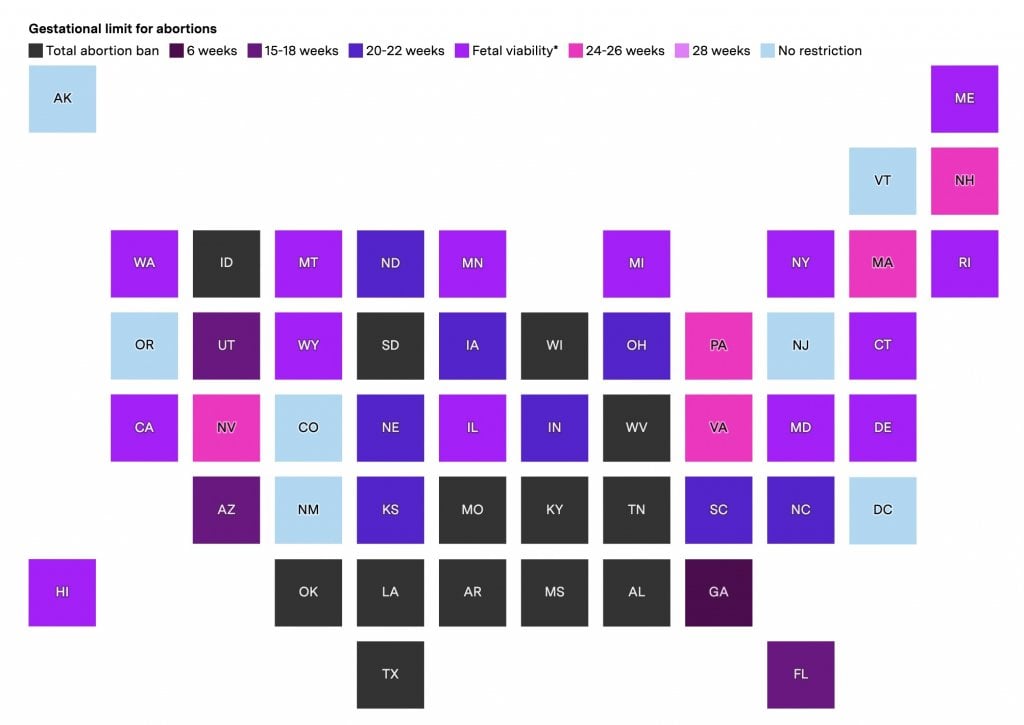 One of the most meaningful pieces of work I've been a part of this year was The 19th's dashboard of what abortion laws look like in every state right now, which has been updated for seven months and counting.
The genesis of the idea came from The 19th's data visuals reporter Jasmine Mithani, who, with the future of Roe v. Wade in the balance, wanted to provide a go-to way for anyone to see the current state of abortion legislation throughout the US. When Roe was overturned by the Dobbs v. Jackson Supreme Court decision in June, this became vital: sometimes legislation was changing multiple times a day. For people who needed reproductive healthcare or who worked in the space, a resource was badly needed. For citizens and voters in the US, an understanding of how their country was changing off the back of a single court ruling was imperative.
Jasmine built an at-a-glance visualization. The editorial team rallied to continuously-update the page. In product and technology, we sidestepped away from our scheduled roadmap to build tools to more easily update the page, and to support visual elements that didn't previously exist. We built components that could be re-used later: a toolkit for storytelling nationwide changes like the one we were experiencing.
This kind of work is an example of why I'm proud to work at The 19th. The United States is experiencing a period of unprecedented change, while many of the decisions made here have a profound impact on the rest of the world. Meanwhile, most news is reported by straight, white men, narrowing its lens on a specific demographic. The 19th's reporters live all over the country and are predominantly women and people of color. (In an organization of over fifty people, I'm one of the only cis white men.) The 19th's focus on high-quality journalism covering politics and policy through a gender lens has been a largely missing perspective. "You're one of the few publications that reports for me and not just about me," a reader wrote in recently.
All the reporting at The 19th is made available under a Creative Commons license, and other news outlets are encouraged to republish it for free. That's why you'll often see our reporting in places like The Guardian, Teen Vogue, and USA Today. Because The 19th's lens is unfortunately unique, this republishing policy allows stories that might not be reported elsewhere to find a wider audience. And we're going to do more: a project I'm working on is to build an open source ecosystem for non-profit software development. Newsrooms do better when they collaborate.
We're a non-profit startup with a small budget. We don't have large teams, and nobody is earning VC-funded salaries. Our aim is to make a big impact with a lean operation, and so far it's been working. We're also transparent about where our money comes from: there are no anonymous donations. You can read about every single person who has funded us here.
Like other non-profit media, we run seasonal member drives to help expand this group. The ideal is that the majority of our funding should come from small donations from individuals. We're not there yet - but maybe you can help? Even a recurring donation of $5 makes an enormous difference and helps make news media more diverse. (And, yes, like other non-profit media, if you donate past a certain threshold, you can get some well-designed swag like tote bags.)
Thanks for considering - and for reading. It's a privilege to work on this problem with this team in the current moment. From the moment it launched, I was glad that The 19th exists - and I'm glad to be on the team.