I'm focusing on the intersection of technology, media, and democracy. Subscribe by email to get every update.
It's genuinely refreshing to see how non-profit newsrooms have been embracing the open web and the spirit of collaboration over competition. These are often resource-strapped organizations shedding light on underreported stories, many of which are local or apply to vulnerable communities. They're usually donation-supported rather than paywalled, and the primary goal is to get the journalism out and serve the public. They're public service organizations first and foremost.
You've probably seen newsrooms like The 19th, ProPublica, Grist, and The Texas Tribune. What you might not have noticed is that each of them makes their articles available under an Attribution NonCommercial NoDerivatives Creative Commons license, such that anyone can republish them on their own sites. Publisher by publisher, a nascent ecosystem for open news content is being built.
There are a few carve-outs: often photos are not re-licensable, so republishable content usually comes without illustrations. There's also often an analytics pixel included in the content so that newsrooms can measure their reach and report back to their funders.
And the reach can be significant. By making their content available under an open license, these newsrooms can find audiences far beyond their websites: major outlets like PBS, USA Today, the Washington Post, and more are all actively republishing stories.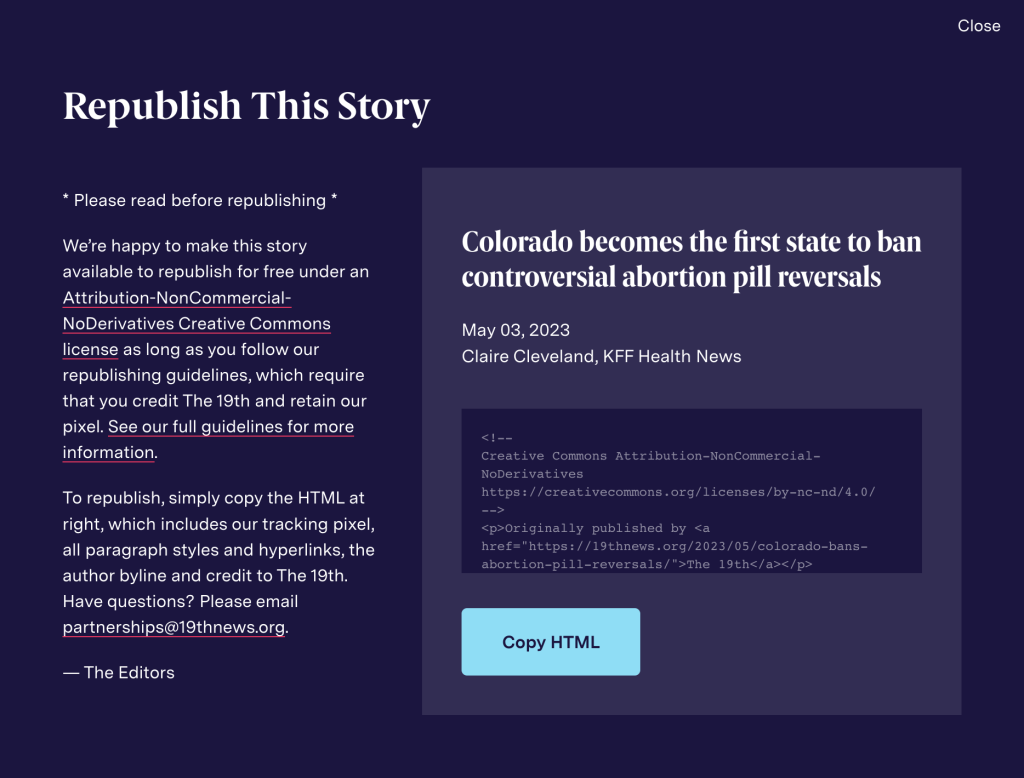 Because of the turnaround time involved in one outlet reporting on and publishing a story to their site, and another discovering it, re-illustrating it, and publishing it on their own site, this mechanism hasn't been particularly applicable to breaking news. But there's a lot of potential in gathering feeds from open publishers and creating a kind of republishing newswire, which could speed up this process and streamline the ability for these newsrooms to reach other publishers and audiences.
Grist just announced Rural Newswire, which is exactly that: a collection of publishers reporting on rural America that make their content available under a Creative Commons license. The site contains a filterable, RSS-powered feed with "republish" buttons next to each story. It's the first site like this I think I've seen, but I know more are coming — and, of course, there's nothing stopping third parties from creating their own. Each RSS feed is publicly available and instructions for republishing are provided by each site.
The result is a de facto co-operative of non-profit news organizations, working together to build a commons that makes the country more informed. It's a way that open content licensing and open source ideas are really working to strengthen democracy. It's the kind of thing that gives me hope for the future.