It's fun to think of the work I've done in terms of Taylor Swift style eras. Hey, I might not have the musical talent, good looks, or legions of fans, but the work I've done has required a series of overlapping re-inventions.
So, why not. In roughly reverse-chronological order, here are my Taylor Swift eras; what are yours?
Super-serious journalism supporter.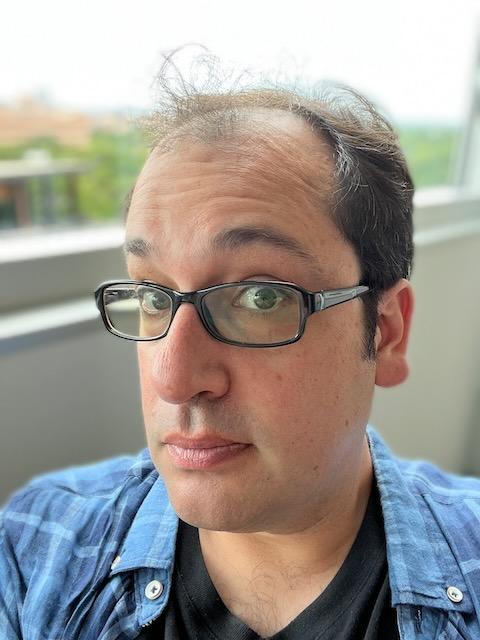 Distinctive look: open button-down shirt
Distinctive food: Austin-style breakfast taco
Distinctive activity: karaoke
I got into media through a lucky encounter with the founders of what became Latakoo, who attended a talk I gave about user-centered social network design at Harvard's Kennedy School in 2009. We collectively designed Latakoo to be an easy way for broadcast journalists to get their footage back to their newsrooms using commodity internet connections, in the video format the newsroom needed. It's the way organizations like NBC News send much of their recorded video today.
I was the first CTO at The 19th, a non-profit newsroom reporting on gender, politics, and policy, and was an active participant in its Senior Leadership Team across all areas of organizational strategy. I've also contracted with other non-profit newsrooms to provide tech leadership support.
At Matter, I invested in media startups — but the cool thing about Matter's fund structure was that the LPs were all media organizations like PRX, KQED, the Knight Foundation, the New York Times, the Associated Press, McClatchy, Tamedia, CNHI, and, yes, tronc. I got to regularly meet with teams from those organizations and (as part of the Matter team) help them through innovation problems they were encountering using a design thinking led approach. I also got to participate in their own internal innovation processes, like giving feedback as part of the KQED Lab internal accelerator.
Startup bro.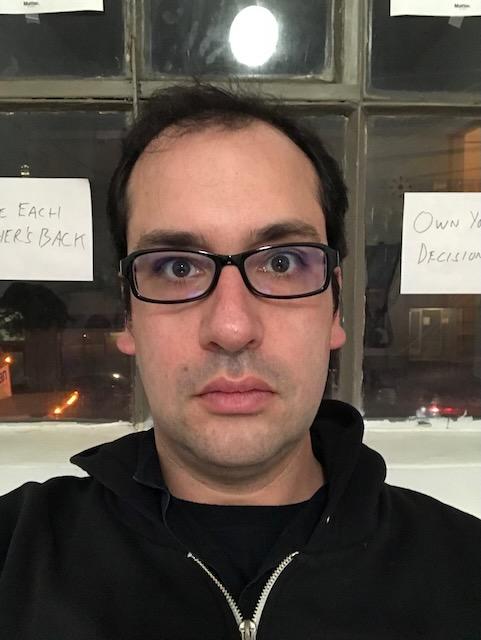 Distinctive look: branded hoodie over a t-shirt that was also branded; socks were also often branded; third wave coffee mug also featured logo
Distinctive food: kombucha on tap and espresso using the imported Italian machine
Distinctive activity: offsites
I was the Head of Engineering at ForUsAll, which was my only foray into fintech. I was drawn to it because of its original mission to help increase access to retirement savings for more people. There was a lot of pressure to raise subsequent rounds of funding, and a major culture shift as the in-person company moved to a remote-first company during the pandemic. This allowed me to hire people I ordinarily never could have, in every US timezone.
I was also a Senior Engineer at Medium on its publications team. It was my first experience working at a company that had, frankly, so much money, sometimes alongside people I'd been following for years. I got to work alongside people who had previously built fundamental tools like Gmail as well as core pieces of web technology. The change in context meant I started off terrified: everyone was so completely on top of their respective games, and I had the biggest imposter syndrome of my life. It was also, for reasons I still don't completely understand, the most fashionably stylish team I'd ever worked with.
Open source utopian.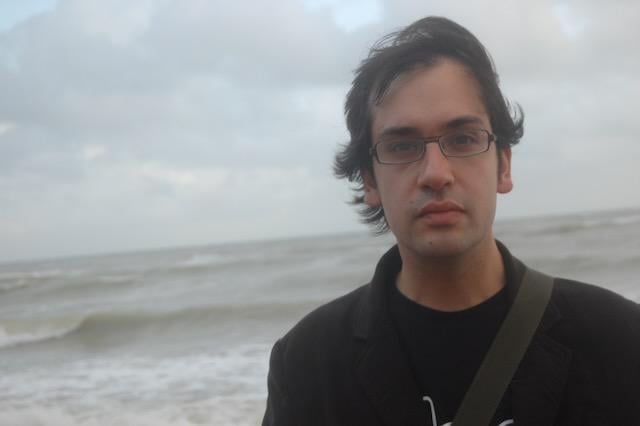 Distinctive look: the jeans-tshirt-and-blazer look, because we were trying to look fancy and legitimate
Distinctive food: poké, for some reason
Distinctive activity: long, long walks, sometimes to save money on transit fares
I worked with Julien Genestoux on his Unlock Protocol: a way to help independent creators make money on their own terms without a middleman. Fully open source and decentralized, the protocol has taken advantage of various blockchains as they've become available, allowing the protocol to become as fast and cost effective as possible. Julien and I are both open-web-first evangelists, and this attitude shows through in the project.
With Erin Richey, I built Known: a kind of social news feed that you host yourself. Any number of people can publish to a Known feed (my site is a news feed of one, but some have had hundreds or thousands). We built an award-winning site with KQED and people around the world are still using it to power their websites. For a while, Known allowed you to directly syndicate your content to third-party websites, which saw us get coverage in Wired, among other places.
With Dave Tosh, I built Elgg: an open source social networking platform that was used by the Canadian national government, Fortune 500 companies, and organizations like Greenpeace and Oxfam. It was, in retrospect, one of the first private social networks and social intranets. We built the first social network ever run at a university, and I'm particularly proud of the social movements that used it. For example, the Spanish Movimiento 15-M anti-austerity movement used Elgg to organize. We also built the first open data definition for social networks, which helped inform the subsequent design of ActivityPub.
Institutional web developer.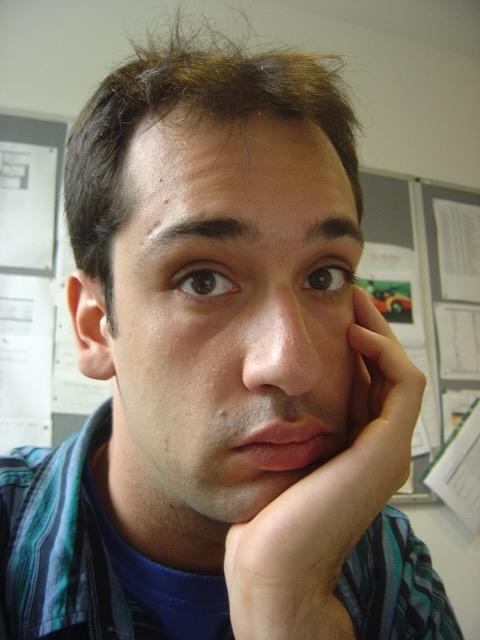 Distinctive look: ironed shirt and trousers
Distinctive food: university canteen food (I was kicked out of the Edinburgh MALTS canteen after hacking the menu)
Distinctive activity: inventing acronyms for things
I ran the web properties at Oxford University's Saïd Business School. The coolest thing about this job was getting to know the faculty and students; it wasn't long before they realized that I knew a lot more about startups and web tech than a random guy in an IT department probably should. I ended up meeting visiting dignitaries and participating in MBA round-tables. They were very kind to me, and in turn, I believe I pushed the IT department forward in its relationship to the web.
And first, perhaps most improbably, I ran the web properties for what is now the St Leonard's Land Pool at the University of Edinburgh: an Olympic-sized swimming pool set up with underwater cameras to analyze and improve the strokes and techniques of elite athletes. I started being loaned out to the Edinburgh University Media and Learning Technology Service, which is where I met Dave and started cooking up Elgg.
Proto-nerd.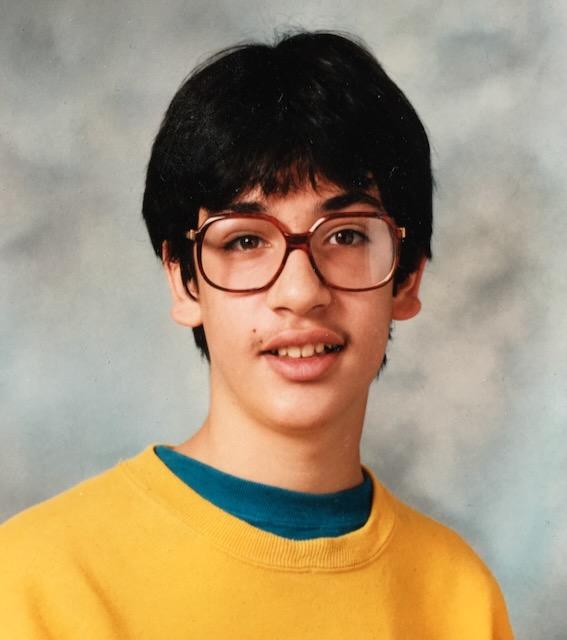 Distinctive look: baggy sweatshirt, jeans, oversized glasses, leather jacket for some reason
Distinctive food: chips
Distinctive activity: putting 486 computers together
I helped build the first website for Daily Information, a local one-sheet newspaper for Oxford that included classified ads (it was possibly the first classified ad website in the world, pre-dating Craigslist) and reviews for local restaurants, movies, gigs, and theater. Before it became a website, I came on as its first BBS SysOp — my first ever job.
I ran a hypertext magazine called Spire, which I built in Windows Help Format because its capabilities at the time outstripped HTML. (We did move to the web later on.) I got to interview celebrities-to-me like Roger Ebert and Nicholas Negroponte. Distribution was via BBS initially, and then we started to be carried on the cover CDs of more professional print computer magazines (something I achieved by faxing them all in turn with a proposal, which blows my mind now). I was 15.
And I ran Rum and Monkey, a website that regularly got millions of pageviews a day and taught me all about social virality (this was 2002). I've written extensively about that over here.