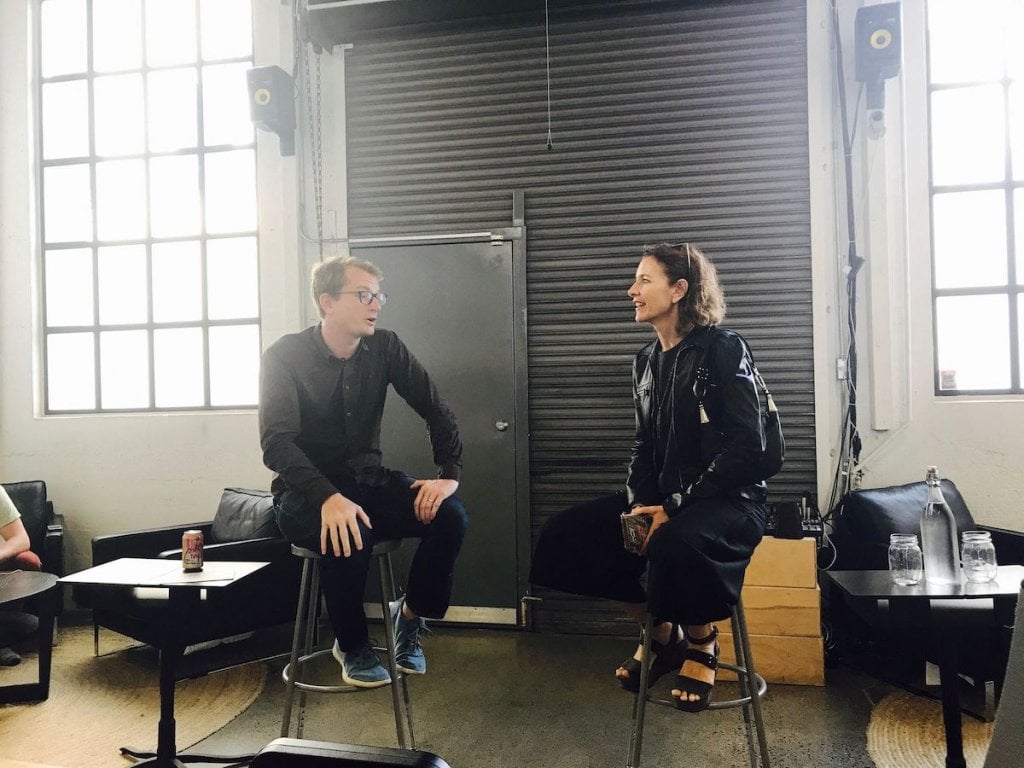 I'm focusing on the intersection of technology, media, and democracy. Subscribe by email to get every update.
When I was the west coast Director of Investments at Matter Ventures, an early-stage accelerator for media startups with the potential to create a more informed, inclusive, and empathetic society, I co-hosted our podcast. Every week, we'd feature a new interview with a media or startup leader, recorded in front of an audience of entrepreneurs.
They're all still online, and the conversations are every bit as relevant today. Here are some of my favorites:
Morgan DeBaun, CEO of Blavity: ‌Morgan DeBaun is the CEO and co-founder of Blavity. Together with her co-founders, Morgan figured out how to build a media business that isn't dependent on a conventional advertising model while also elevating the voices of populations too often shut out of the media — all with a constant focus on mission, on the needs of her audience, and on prototyping toward success. They've reinvented media in the spirit of FUBU — for us by us — for a new generation. Inclusion is about more than representation of creators: it's about owning the means of production, too.
Rebecca Kaden, managing partner, Union Square Ventures: ‌Rebecca is the fourth partner ever to join Union Square Ventures and their first female partner. She spent nearly six years at Maveron prior to USV, and when she sat down with Pete Mortensen, our Director of Program in San Francisco, they shared their experiences about how having a background in liberal arts and journalism can be a superpower in venture capital, especially with early stage startups. Rebecca gets to the heart of how important it is for entrepreneurs to find the right fit when it comes to funding—and it starts with understand the human side of investors.
Jennifer Brandel, CEO of Hearken: ‌Jennifer Brandel, CEO of Hearken and Matter Four entrepreneur, joined us in New York City where she and Roxann Stafford, our Director of Program there, sat down to talk about her "Drunken Walk" as an entrepreneur who really sought to change the way journalists tell stories. Hearken has turned journalism on its head by actually bringing audiences into the reporting process. It provides journalists the tools they need to ask people what they want to know before going out into the field. Hearken really opens up newsrooms to find out the real questions in their communities and create more inclusive content.
Caitlin Kalinowski, currently Head of AR Glasses Hardware at Meta: ‌Caitlin Kalinowski has been a designer at the forefront of cutting-edge technology for over a decade. She got her start at Apple as one of the lead designers on the MacBook Air before she left for Facebook. Now, she is the Head of Product Design at Oculus VR. Caitlin shared her Six Steps to Product Prototyping with a group of Matter Seven entrepreneurs in San Francisco. The talk included everything from advice about how to iterate to how important it is to train people to give negative feedback. The tools she uses as a designer are really aligned with the design thinking process (yes, it's called that for a reason) that Matter entrepreneurs learn in our 20 week accelerator program.
Jane Metcalfe, CEO at NEO.LIFE: ‌Jane Metcalfe is the founder of NEO.LIFE, an online publication that makes sense of the neobiological revolution. Previously, she co-founded WIRED. As well as WIRED Magazine, the group owned HotBot, the internet's fastest search engine at the time, invented the banner ad, won numerous awards, and practically invented online publishing. Most importantly, it put a human face on the technology revolution and the people who drove it. In this talk, recorded live in front of an audience of Matter Seven entrepreneurs in San Francisco, Jane discusses building a team packed with world-class talent and giving them the space to do their best work — as well as the role of media in transforming how the world sees entire industries.
Raju Narisetti, currently Leader, Global Publishing at McKinsey: ‌Raju Narisetti is the CEO of Gizmodo Media Group. His journey is inspiring: from a dairy salesman to the head of a digital media group at the heart of Univision. He speaks with Roxann Stafford, Matter's Director of Program in New York, in a fireside chat recorded live with Matter Seven media entrepreneurs. Raju's experience speaks to what we acknowledge at Matter; there is no straight line to success and importance of being true to yourself. Everyone fails forward throughout their careers, and the risks Raju took and the things Raju wished he had done go to show that all of us can embrace imperfection, state our assumptions, test them, and learn.