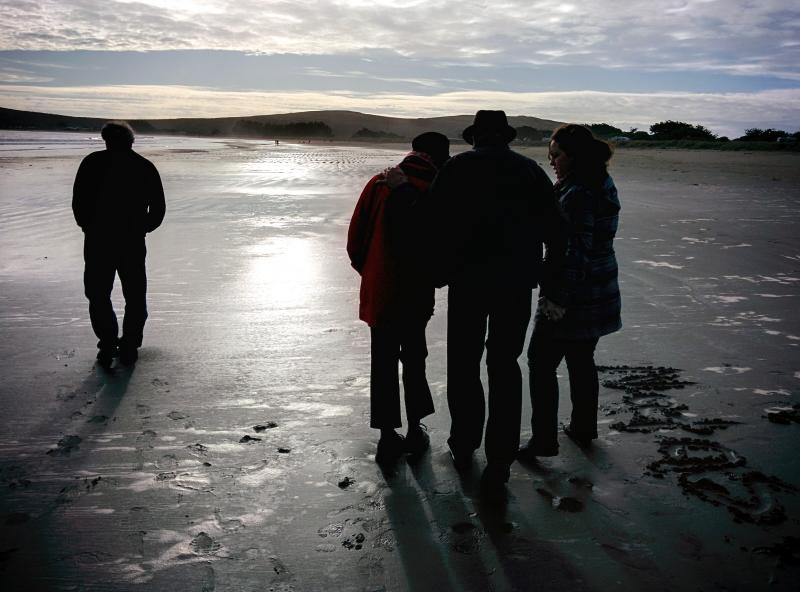 My future children, should I have any, will come from a tapestry of places. From my side of their lineage alone, they will come from three continents. They will have multiple passports. They'll share my sense of both coming from a specific place but also no place at all. I don't completely identify with my nationalities, and it's likely that neither will they.

It wasn't until well into my adult life that I understood how far the metadata of my identity diverged from most peoples'. Many people include a nationality in the fabric of who they are; I have multiple, and don't completely identify with any of them. Particularly here in the US, many people identify with a religion; I don't believe in any. For a lot of people, they have a deep, historical relationship with their communities that goes back for generations; mine goes back less than one.

People seem to be very worried about how their culture changes in the face of immigration. The truth is that culture has always been changing through the ebb and flow of populations.

In the 1300s, the Spanish began to drive out their Jewish population - once one of the most prosperous communities of Jews in the world. Continuing a pattern that has been repeated all over the world, they robbed and murdered them, ultimately forcing them to convert to Catholicism, leave the country, or die. Some found their way to Switzerland, where they became textile millers in an area of Zurich called Werd ("river island"). Eventually, they moved their home to the nearby municipality of Elgg.

In the 1600s, a group of English puritans moved to Holland in order to escape the volatile politics and religious intolerance of the time. After some time there, they became afraid of losing their cultural identity to the Dutch, so they secured investment to start a new colony in America. There, they had more control, and could live by their values.

In the 1800s, the Dutch established a system of indentured labor in Indonesia, under a brutal colonial rule and racist caste system. In the 20th century, they enacted some political reforms and invested in infrastructure in the country, allowing the indigenous population limited freedoms like education, but squashed the nationalist movements that began to emerge. The Japanese invaded during the second world war, placing many of the Dutch settlers in internment camps. When that war ended, the Indonesians fought for independence, seizing assets and infrastructure, and many settlers fled back to the Netherlands. Post-war life was hard there, and some found themselves seeking asylum in places like California.

In the early 1900s, between 30,000 and 60,000 Jews were killed in Ukraine over a three year period. Escaping was hard; many families failed. What was once one of the largest Jewish communities in the world was decimated. Some families made it to places like New York, where they changed their names and identities. Partially this was to culturally assimilate into their new home; partially this was because America itself harbored anti-semitic sentiments until well after the second world war.

This is a subset of the events that lead to me, and will lead to my hypothetical future children. I'm descended from Swiss textile merchants, who wound up having a hand in the Reformation; a Mayflower passenger who became the religious leader of the colony; a leader of the resistance against the Japanese in Indonesia whose whole family, including my toddler father, was interned; a major union leader in New England who had fled from Ukraine. My grandfather who served in the US Army and had to deny his Jewishness when he was captured by the Nazis (and survived to later meet Einstein, have tea with Sylvia Plath, and translate Crime and Punishment into English). My academically-inclined parents who moved to study at Oxford for a year and stayed for over twenty.

Growing up in England, I was ashamed of my identity. Teenagers leap on any difference, and my background - even in Oxford, a university city with an ever-changing population of visiting academics - made me feel like an alien. Because I had an English accent, people felt free to say how much they hated Europeans and Americans around me. At one point, I considered changing my last name to Ward, because whenever I had to tell someone my last name over the phone, that's what they would repeat back to me. "Werdmüller." "Ward?" "Werdmüller." "Ward."

As I grew older, I began to bristle against this more and more. "You can become a British citizen, you know," people would tell me, almost without fail, whenever they discovered I wasn't. It was meant kindly, I think: they were proud of their national identity, and they wanted me to be able to attach that metadata to mine, too.

What they missed was that it was an erasure of who I was. My identity really is wrapped up in all these migrations of people - not just hundreds of years ago, but right now. All of it is a part of me. If you asked me today, I wouldn't change my name for the world, and I wouldn't give up any of my history to be able to say I was from any one place. I'm an immigrant everywhere, and that's okay. I proudly come from a long line of immigrants and nomads.

I've learned, the hard way, that this is confronting for many people. They're proud of being British or American, and perhaps my rejection of that somehow reflects on those values. Nationality and religion are shortcuts to identity, in the same way the way you dress can be. In particular, the idea that I am not tethered to any one country - and don't want to be - is very difficult to accept. As one ex-girlfriend put it, "it's like you don't want to fit in".

Today, a growing percentage of the world's population - a little over 40% - is connected over the Internet. We have the ability to  speak to people virtually anywhere, instantly, which means relationships can emerge over greater distances, in greater numbers. The number of dual or multiple citizenships has been rapidly increasing during my lifetime (although no government officially keeps track), and it will continue as more and more people gain the freedom to easily travel and communicate globally.

Many people complain about how immigration is changing the cultural landscape of their country. In America, a country founded by immigrants relatively recently, this is ridiculous. But it's ridiculous everywhere: in a sense, the world is a country of immigrants. Borders can be seen as a kind of top-down attempt to inhibit movement in order to preserve resources, but people have always moved. The ebb and flow of populations is the heartbeat of human civilization.

Which brings me back to my hypothetical future children. I'm anxious that they not be forced to fit into someone else's cookie-cutter idea of what their identity should be. They have the rich histories of the two people who will lead to them; of countries and religion, persecution and immigration. Ultimately, they will have the privilege of deciding who they want to be, and how they define themselves. The usual metadata need not apply.